Set Yourself Upon a Northern Road to Apotheosis with a Simple Runic Phrase
Ellilyf Salu is a powerfully transformative galdr that has a profound effect of the basic nature of one's soul and the workings that emanate from that soul.
In order to better understand how this formula works, we need to breakdown and understand the two simple words of which it is composed.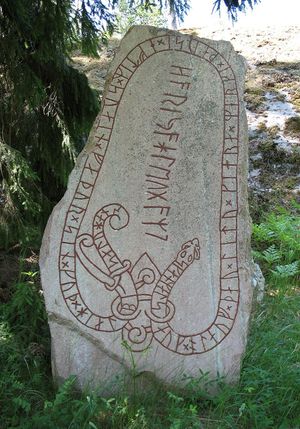 The Norse World for soul, Sal, seems to have come into use during the 10th century . It made its way onto a few runestones, usually in the form of a prayer for the soul of someone who just died. We find this on the Skåäng Runestone.
The last section roughly translitarates as - Guð hialpi salu hans: God help his soul.
When we combine the world Sal=soul with Alu= magic/ manifestation, we create a powerful word that means, Soul Magic.
The word, Ellilyf, appears in the poem Haustlöng  in reference to Iðunn and her apples which bring the gods youth and vitality.
"fœra sér mey ás kunni ellilyf ása" - bring him the maiden who knows the gods' old-age cure